Want to start the music without missing a beat while cooking Friday night dinner? Turn the music off when someone calls or knocks on your door? Or maybe you just want to veg out and control your music without leaving the comfort of your favorite couch — whatever your reasons, you can make it happen.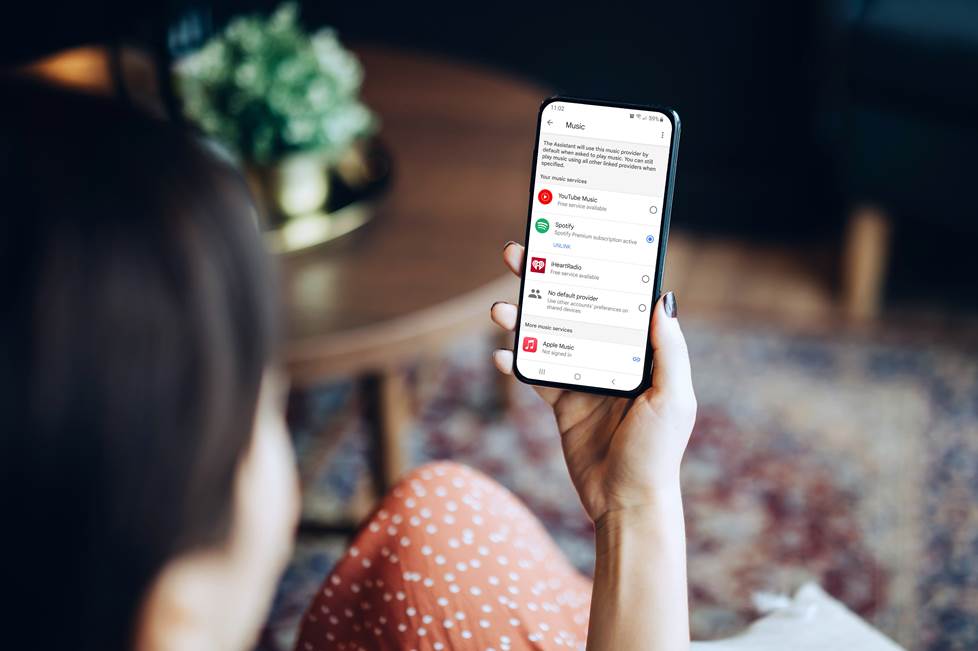 When you set up your Amazon Echo or Google Nest device, you'll use an app — or two — to link the device to compatible music services and speakers/components in your home.
Voice control might seem like a novelty at first, but before long you'll probably find yourself adapting handily to the convenience. It's just so easy to ask Alexa or Google to play music.
But here at Crutchfield, convenience is only part of the story. What's the use of voice control if the audio doesn't sound great? In this article, I'll show you how to integrate voice control into an ever-expanding list of compatible high-fidelity audio gear, including multi-room setups. Yes, you can control what music plays in what room with your voice assistant.
How to play music with Alexa and Google
I don't want to start any wars, but first you've got to choose between Google Nest or Amazon Alexa. Then pick a device. Both have entry-level small single speaker options that will still be useful even if you decide to add model with more bells and whistles — like a screen — later.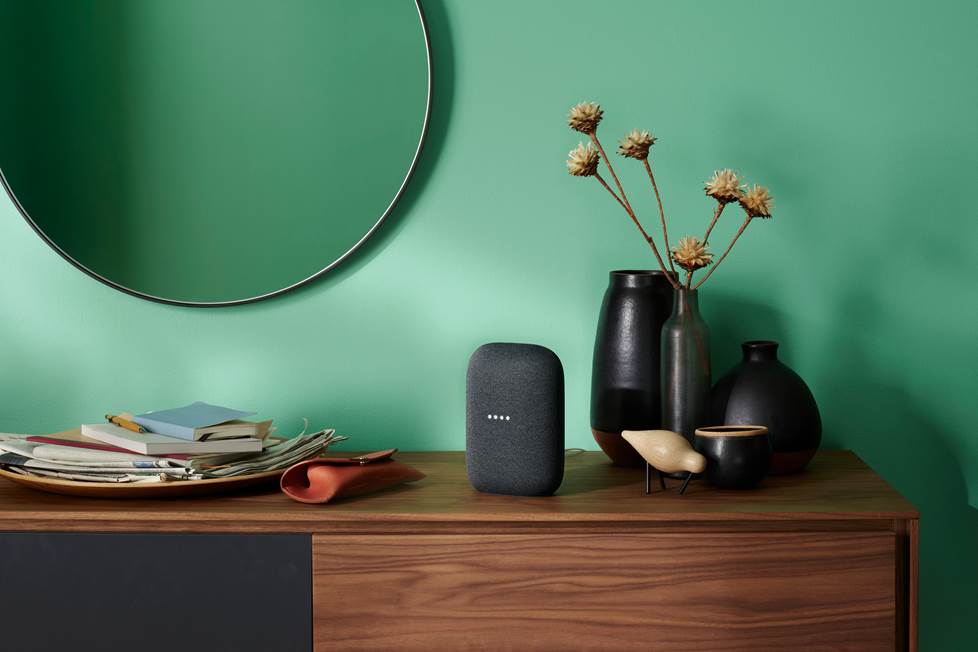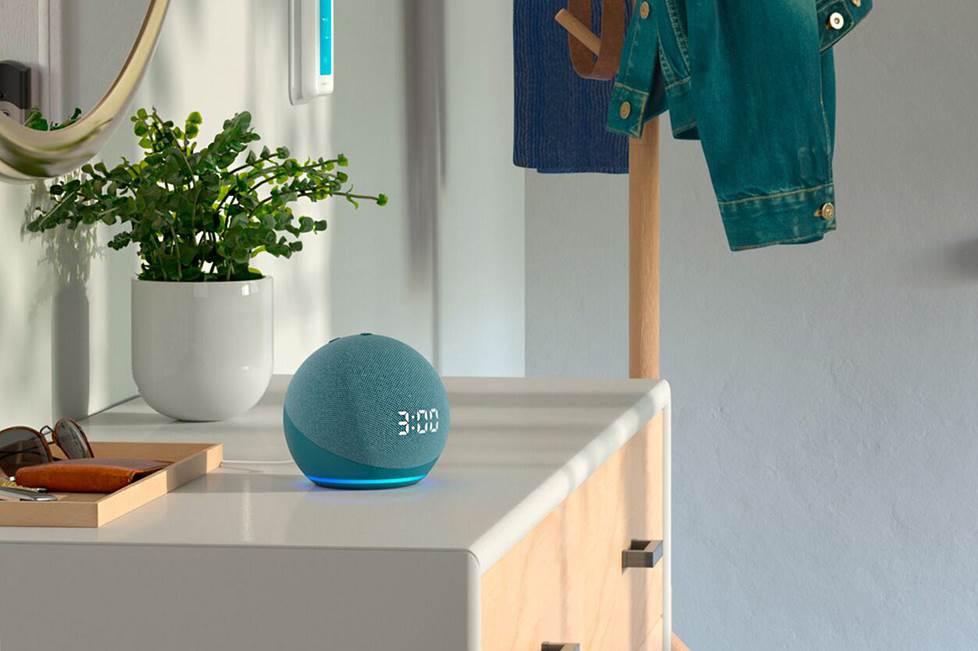 The assistants have built-in mics that start listening when you say "Google" or "Alexa," depending. They'll talk you through the initial setup, which includes downloading the appropriate app to your phone.
Once you're set up, there are a few ways you can connect with your system. You can find voice control compatible stereo receivers and preamps, and some integrated amps. You'll also find compatible home theater receivers and preamp/processors. And if you're using a multi-room platform like Sonos, BluOS, HEOS, or MusicCast, you can add skills to your assistant that will give you voice control.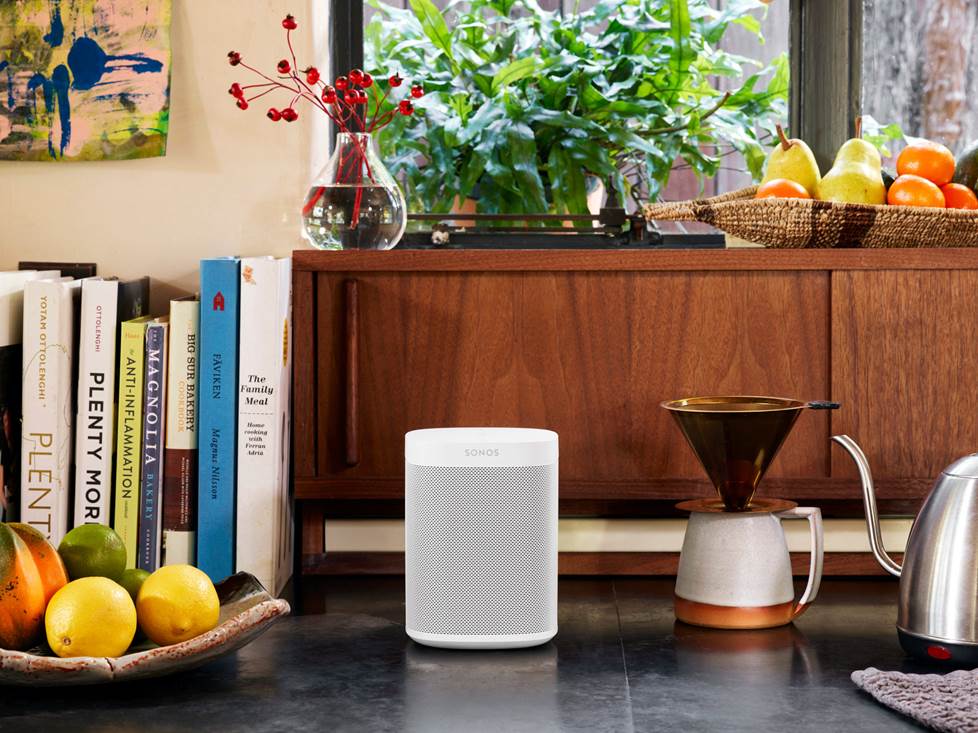 The Sonos multi-room streaming platform is known for working well with voice assistants.
Alexa, play 91.1 WTJU
Everybody has at least heard of Alexa. She's user-friendly, and once you get used to the commands, it's almost like talking to one of the family. Almost.
First things first: download the free Amazon Alexa app. Then connect your Alexa assistant to your home WiFi network and you can play internet radio and other free music from the web, or from paid services like Spotify®, Pandora®, and TIDAL®.
Here's something she could do without any help, as soon as I had her set up: "Hey Alexa, play 91.1," I said. "Playing WTJU 91.1 on TuneIn," she answered. And the music played.
Integrate Alexa with your "dumb" stereo system
One of the easiest ways to marry voice control and higher-fidelity audio is by using a wired connection from your Alexa assistant to your stereo or home theater receiver or preamp, or integrated amp. All Echo assistants (except the Echo Show 10) have a 3.5mm stereo output that can connect to an aux input, or an RCA stereo input. It's just like adding another component to your system. Except you can tell it what to do. And it will do it.
Use Alexa to control compatible receivers
Some receivers work with Alexa but don't have their own built-in mics. That's where an Alexa assistant comes in mighty handy. You just add the receiver in the app and then control it with your voice using Alexa.
Powered speakers with Alexa built-in
A nifty solution for getting quality audio with voice control: powered speakers with Alexa built-in. These are decidedly more robust speakers than what you get in the Echo Dot (although it's amazing how good that little speaker sounds).
These speakers have built-in mics, so you don't necessarily need another Alexa device to use them.
Hey Google, play Spotify
There seems to be a general consensus that Alexa wins the user-friendliness category for controlling your music with a voice assistant. But Google Assistant is catching up, and gets points for its compatibility with Chromecast built-in, which allows high-resolution streaming. Setup is similar: unbox, download the free Google Home app, plug in the assistant and add it your Wi-Fi network, and let it talk you through the process. Then start issuing commands.
Connect Google Assistant to compatible wireless speakers and receivers
There are several wireless speakers and a few receivers that are compatible with Google Assistant, but don't have built-in mics. The component will show up in the app so you can add it for voice control and, voila. Give it a name that's easy to say and remember, then start telling it what to play.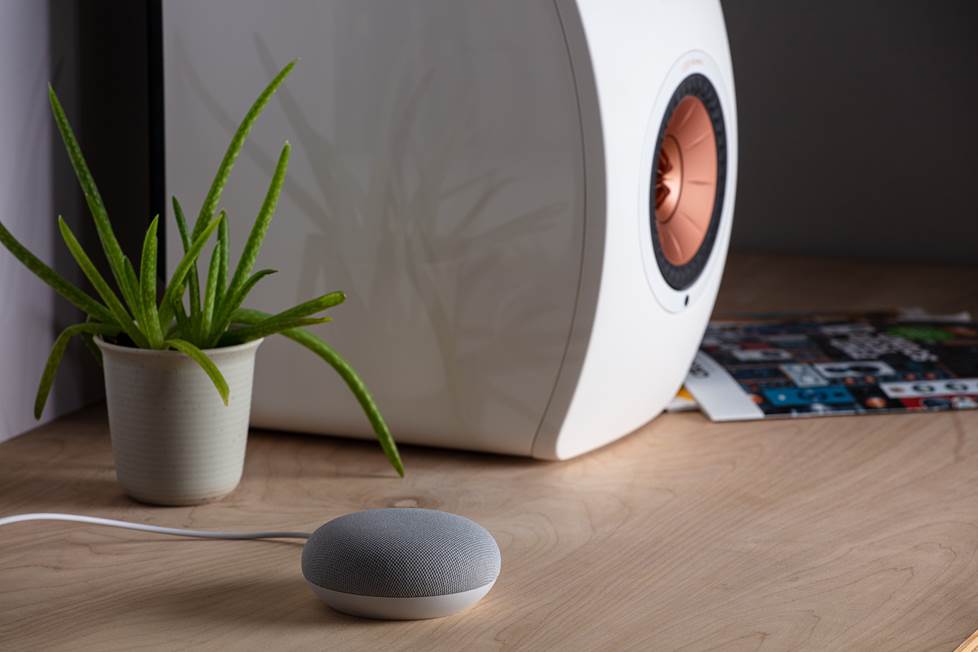 A great-sounding set of powered speakers like the KEF LS50 Wireless II gives you multiple options — including high-res-capable Chromecast built-in — for voice control.
Google Assistant built-in
If you choose a powered speaker with Google Assistant built-in, you can, of course, control it with the voice assistant. Since these all have built-in mics, you can also use any of them as your sole or main voice assistant.
Chromecast built-in
Audiophiles have taken notice that Chromecast supports high-res streaming up to 24-bit/96kHz. If you have an amplifier/receiver or a preamp with Chromecast Built-in, you can tell your voice assistant to cast your music to it. That's good news for TIDAL and Qobuz users.
Siri can do a lot of the same stuff
Apple's Siri was my first voice assistant. She's great at helping me make and take calls and texts hands-free while I'm driving. You can also use her to control your music. She's especially useful if you are an Apple Music subscriber (or you just keep a lot of music in your iTunes library.) Just tell her what you want her to play.
Apple AirPlay 2 has become a common feature in powered speakers and network streaming music players. It's very easy to use, and of course plays well with Siri. And if you're using multiple AirPlay 2 compatible sources, you can use the Apple Home app to control them separately, or group them together and control the whole group with the same commands.
Tips for getting started with voice control
Let's talk about the elephant in the room. Most people who try voice assistants also get frustrated with voice assistants. I think there are two main reasons for this.
First, we aren't using specific commands that the voice assistant can understand.
Second, when voice assistants don't work the way they're supposed to, it's often because we need to go into the app — sometimes multiple apps — and fix some settings.
Here are a few tips to help you make sure you're making the right connections and working within the assistant's capabilities.
Connect to your hifi system
Making the initial connection and configuring your setup are both critical steps. Unless you're using a 3.5mm wired connection from an Alexa assistant, you need to check for compatibility. And once you've confirmed compatibility, linking your assistant to your your home stereo's wireless platform (HEOS, MusicCast, Sonos, BluOS, etc.) usually means enabling the connection both in the assitant's and the other device's app.
The Amazon Echo Dot has a 3.5mm for connecting it to a wide variety of external audio equipment — even as an analog source on a high-performance integrated amp or receiver.
Teach your assistant some skills
You may need to download a special assistant "skill" before you can make the connection. Skills let you use your voice control assistant with a wide variety of services and devices. Look for the skill you need in the assistant's app, then follow the directions for setup.
Use simple commands
The simpler you keep your commands, the better your assistant can understand them and make them happen. Here's a list of commands Alexa understands, and here's one for Google Assistant.
Things can get a little more complicated when you're using skills. To control a BluOS device with Alexa, for example, the skill you need is called "Blue Voice." And your commands will need to begin with the preface, "Hey Alexa, ask Blue Voice to..."
Most of the other major multi-room streaming platforms let you command Alexa a little more directly. And I'll say it again: front-end configuration within the apps will save you a lot of headaches.
Easy names for multi-room audio
If you want to control your multi-room system with your voice, you'll want to give your different rooms and groups simple names. Like, instead of "downstairs fireplace speakers," try a one-word name, like "fireplace."
Brilliant for Sonos Users
Controlling your Sonos multi-room system with your voice has proven to be one of the user-friendliest experiences. Crutchfield copywriter Emily is a longtime Sonos user who uses the Alexa built into her Brilliant smart switch to control her Sonos devices.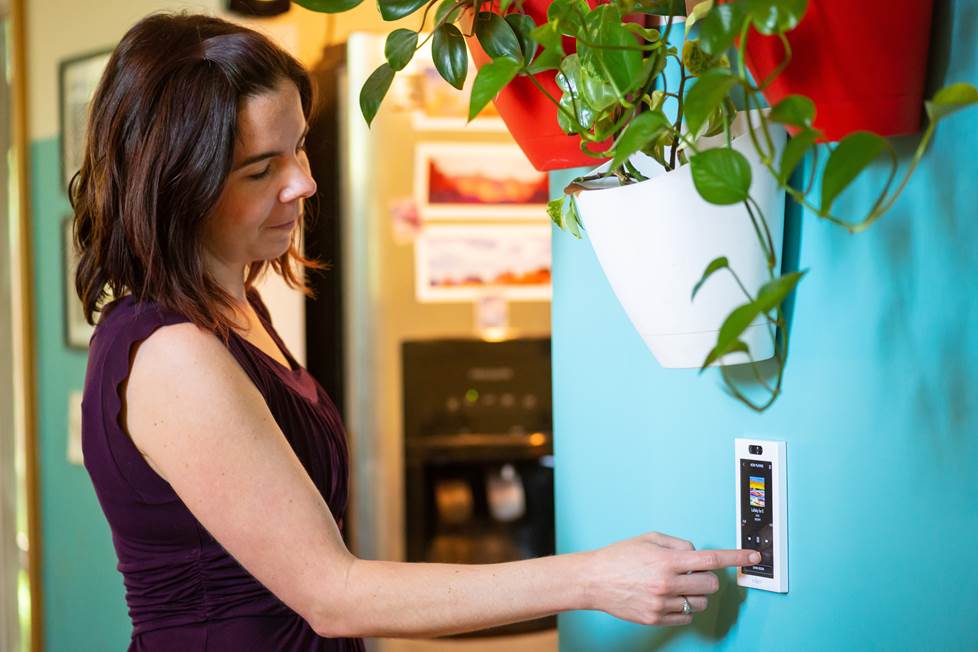 Emily writes a lot about smart home gear — so she knows her stuff — and she uses a Brilliant smart switch with built-in voice control to tell her Sonos system what and when to play.
"I use it when I'm cooking and I don't want to walk over to the stereo only to get food on the buttons," Emily says.
The Brilliant gives you all kinds of smart home control in addition to having an onboard mic with Alexa built-in and Google assistant compatibility.
Privacy please
You can turn your assistant off if you don't want it to be listening to everything that you say. Some assistants, like Google Nest Mini, have a physical mute button on them. Or you can turn the assistant off in the app.
Stay tuned...
The beauty of these voice-assistant devices is that they are always learning new skills. As more products incorporate voice control, we'll keep trying them out. And we'll keep you updated.
Let us help you get started
You have so many options for controlling your music with Alexa or Google Assistant. If you want some help choosing, or advice on how to get the most out of what you've already got, contact us.