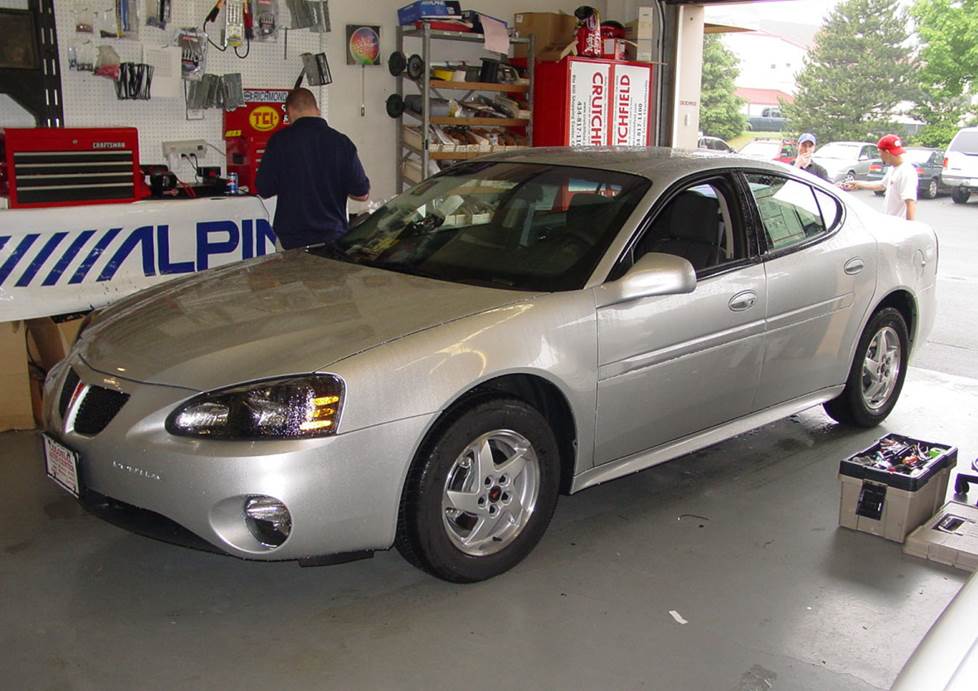 In brief: This Crutchfield Research Garage article gives you an overview of your Grand Prix's stock stereo system and your aftermarket upgrade options. We'll tell you all about:
Then, use our vehicle selector to find the gear that will fit your Grand Prix.
Overview of the Pontiac Grand Prix
Looking for a comfortable, sweet-handling sedan with swoopy styling and plenty of power? Don't skip over the next 2004-2008 Pontiac Grand Prix that you see. These cars offer more "driving excitement" than your average sedan – especially if you're lucky enough to have a GXP model.
The Grand Prix can be a whole lot of fun to wheel around, plus it's has the practicality you need to handle the various elements of your busy week. The design still looks fresh and there are plenty of spare parts and trained mechanics out there, so why not get out and enjoy some Pontiac Excitement? Upgrading the not-so-exciting factory stereo will make your Grand Prix even more enjoyable to drive.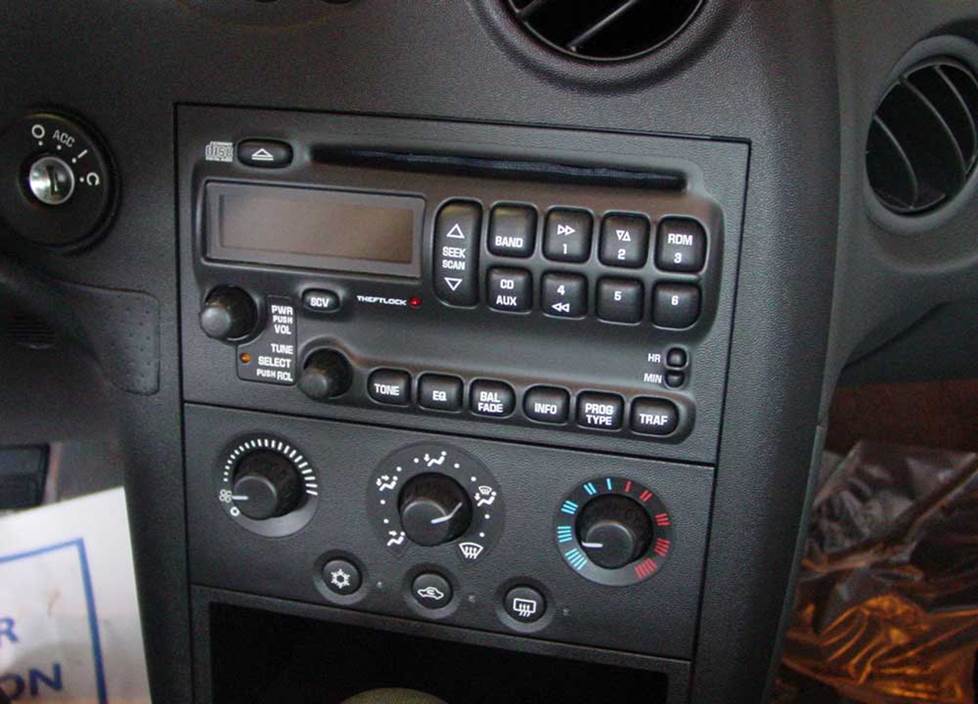 The base radio is, well, pretty basic (Crutchfield Research Photo)
The factory stereo system
The Grand Prix was available with your choice of 6-speaker base system or an optional Monsoon stereo system with seven speakers. The disassembly process is the same, regardless of which system you're working with.
A variety of single-DIN (2" tall) and double-DIN (4" tall) stereos will fit into the dash, so you'll have plenty of good options. When you replace the factory receiver, you'll lose the factory XM satellite radio function, and the calendar function of the driver information center won't work anymore. Those functions can be replicated or not depending on your needs, but the vehicle warning chime, built into the radio, is a different deal.
Detailed stereo and speaker removal instructions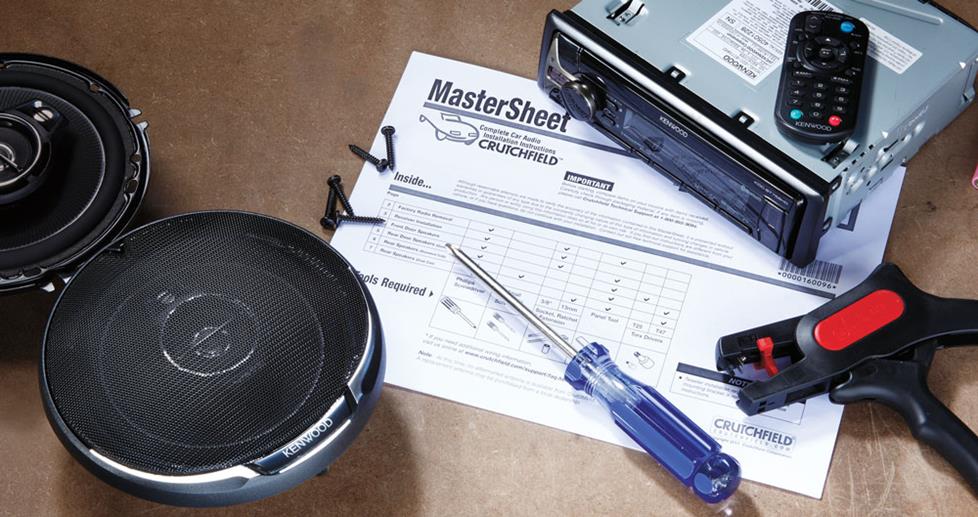 With step-by-step disassembly instructions and plenty of up-close, detailed photos, our exclusive
Crutchfield MasterSheet
™ takes the guesswork out of removing the factory stereo and speakers. It's free with your Crutchfield order, or you can purchase one separately for just $9.99.
You'll need to purchase a wiring adapter to keep those factory warning chimes working (it also provides all the power and speaker connections). Failure to use this adapter may result in serious injury or death, so Crutchfield cannot offer technical support for an installation undertaken without this adapter. The good news is that Crutchfield will give you a steep discount on the price of the adapter when you buy it along with your receiver.
When installing a new stereo, you'll need to connect the new stereo's wires to the adapter's wires. We always recommend Posi-Connectors as a secure and easy solution.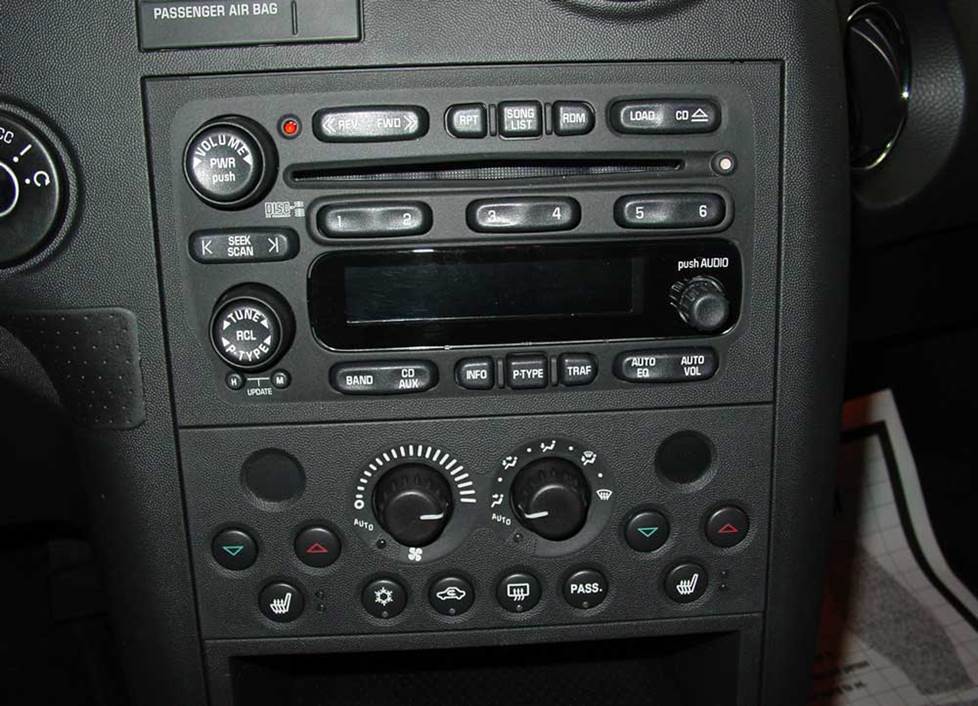 The optional Monsoon receiver (Crutchfield Research Photo)
Removing the factory radio
When it comes to swapping out the stock radio, the Grand Prix is reasonably easy to work on. You'll start by carefully prying around the edges of the receiver/climate control trim panel to release the retaining clips. The ignition switch trim ring will pop off, which is no big deal. As you pull out the trim panel, disconnect everything and remove it. Store it someplace safe before you continue.
You'll need to remove four Phillips screws securing the climate control unit, then four more Phillips screws securing the factory radio. Once everything's loose, pull out the climate control unit just enough to let you pull out, disconnect, and remove the radio.
To install the new receiver, you'll need a receiver mounting kit and the aforementioned wiring adapter. Follow the instructions included with each as you're preparing to install the new receiver, then refer to your MasterSheet as you retrace your steps, install the receiver, and button up the dash. Remember to test the receiver to make sure everything's working correctly before you put it all back together.
Tools needed: Phillips screwdriver, panel tool, small flat-blade screwdriver
Read our Car Stereo Buying Guide for shopping tips and advice.
Shop for car stereos that fit your Pontiac Grand Prix
Steering wheel audio controls
In most cases, it's reasonably easy to retain your car's steering wheel audio controls when you install a new stereo. When you enter your vehicle information, our database will choose the adapter you need to make your factory steering wheel controls work with a compatible aftermarket receiver.
Replacing your factory speakers
The Grand Prix has speakers in the front doors, the rear deck, and, in the Monsoon system, an extra speaker in the center of the dash. Though replacing them can be challenging in places, the overall project is well within the skill set of the average car audio do-it-yourselfer.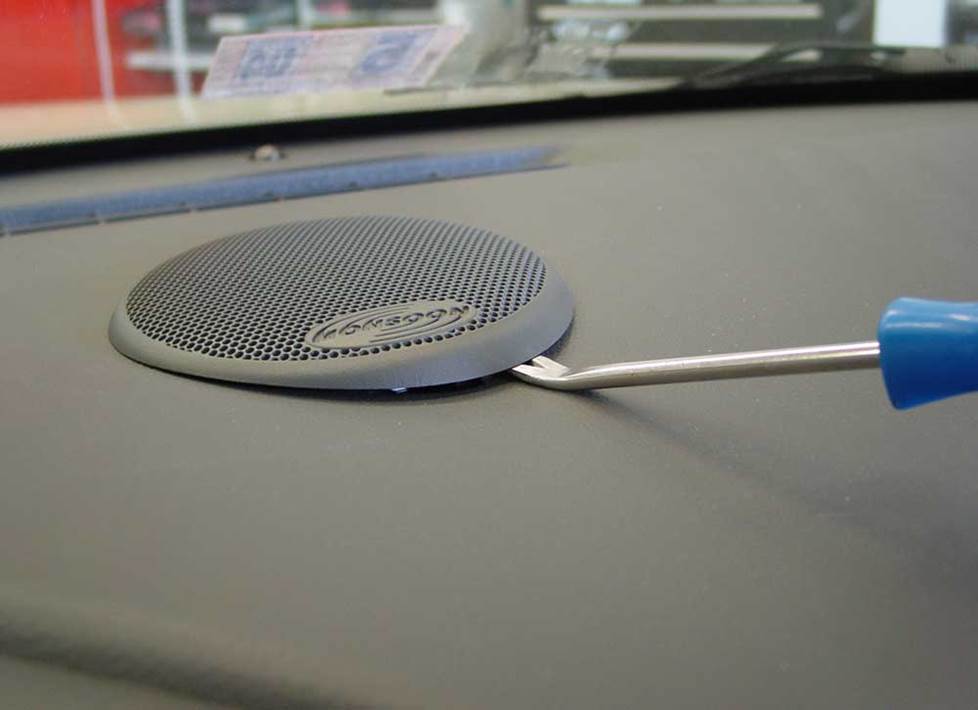 Removing the Grand Prix's center dash speaker (Crutchfield Research Photo)
Center dash speaker
Monsoon-equipped GP's featured a 3-1/2" speaker in the center of the dash. It's very easy to reach and remove, and a healthy number of same-size aftermarket replacement speakers are available for this location.
All you need to do is pry up and remove the speaker grille, then remove two Phillips screws securing the speaker. Pull out, disconnect and remove the old speaker, then connect the new speaker's wiring adapter (free when you purchase your new speakers from Crutchfield) to the car's speaker harness. Secure the speaker with the factory screws, test it out, then re-install the grille.
Tools needed: Phillips screwdriver, panel tool
You'll have plenty of options when you're shopping for new front door speakers (Crutchfield Research Photo)
Front door speakers
The front door component speakers in the Grand Prix are "the same, but different." Both models feature 6-3/4" woofers in the doors and tweeters just above them, it's just that some are Monsoon and some are not. Serously, that's the only difference. Whichever speakers you have, you'll need to remove the door panels to get to them. This isn't very difficult and is covered thoroughly in your Crutchfield MasterSheet.
You can use 6-3/4", 5-1/4", or 6-1/2" speakers, though the frame width for the replacement speakers cannot exceed 6.346". A speaker adapter bracket is required for the smaller sizes, and it's included at a discount with your speaker purchase. With some speakers, you'll have to cut out the back of the plastic cup or mounting bracket in this location to accommodate your new speakers, but that's not hard at all..
Depending on which aftermarket speaker you're installing, you may have to drill new screw holes in the bracket. Drilling a few holes isn't difficult for the average home handyperson, but you are drilling holes in your car, so you'll want to be careful when you're doing this. Be aware of what's around the area in which you're working, know how deep you need to drill before you start, and always wear eye protection.
While the woofers are mounted in the door, the tweeters are mounted in the door panel. Once you've removed the panel, you'll need to gently pry them out and disconnect them. You'll need to use hot glue, silicone, or one of our universal backstraps to install your new component tweeter.
Tools needed: Phillips screwdriver, panel tool, 10mm socket, ratchet and extension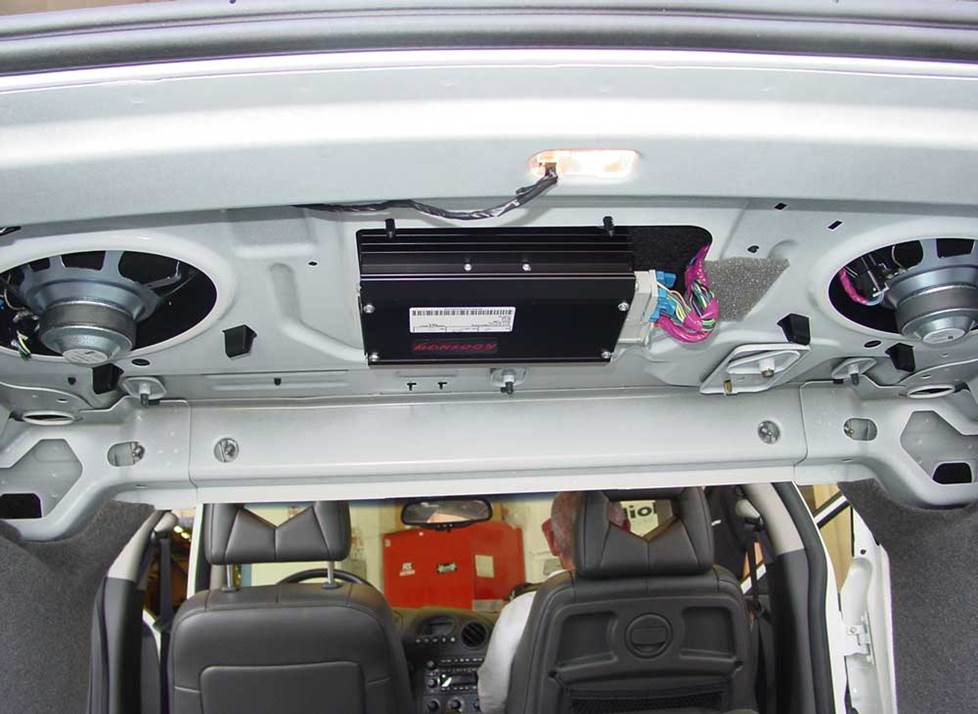 The Monsoon system's rear deck speakers are on either side of the factory amp (Crutchfield Research Photo)
Rear deck speakers
The Grand Prix sedan has a pair of 6"x9" speakers in the rear deck, regardless of the model. Getting to them is a bit difficult, but we've seen far worse. You'll have to remove the back of the rear seat and the rear deck panel, so there's some work involved. It's not hard work, but you'll want to block out some time. You'll also want to have some old (but clean) sheets handy to protect your seat cushion while it's out of the car.
On Monsoon-equipped cars, the factory rear deck speakers are dual voice coil models with one coil on each speaker powered by a subwoofer output from the Monsoon-only amplifier.
The factory amp sends bass and treble through separate sets of wires to these rear deck speakers, so if you replace them, you'll have two options for getting full-range sound to your new speakers: 1) bypass the factory amp; or 2) replace it with an aftermarket amp. The aftermarket model will offer a lot more power and performance, so that would be our pick, especially if you're planning to install a component subwoofer in the trunk of your Grand Prix.
A wiring harness is not available, so you'll need to make your connections by either soldering the wires or using Posi-Products connectors.
The base models are a bit easier to work with. With same-size replacements, you can drop them in and use the factory speaker grilles. With other sizes, you'll need adapter brackets, which are included with your Crutchfield speaker purchase.
Tools needed: Phillips screwdriver, panel tool, 7mm and 10mm sockets, ratchet and extension
Read our Car Speakers Buying Guide for more information.
Shop for speakers that fit your Pontiac Grand Prix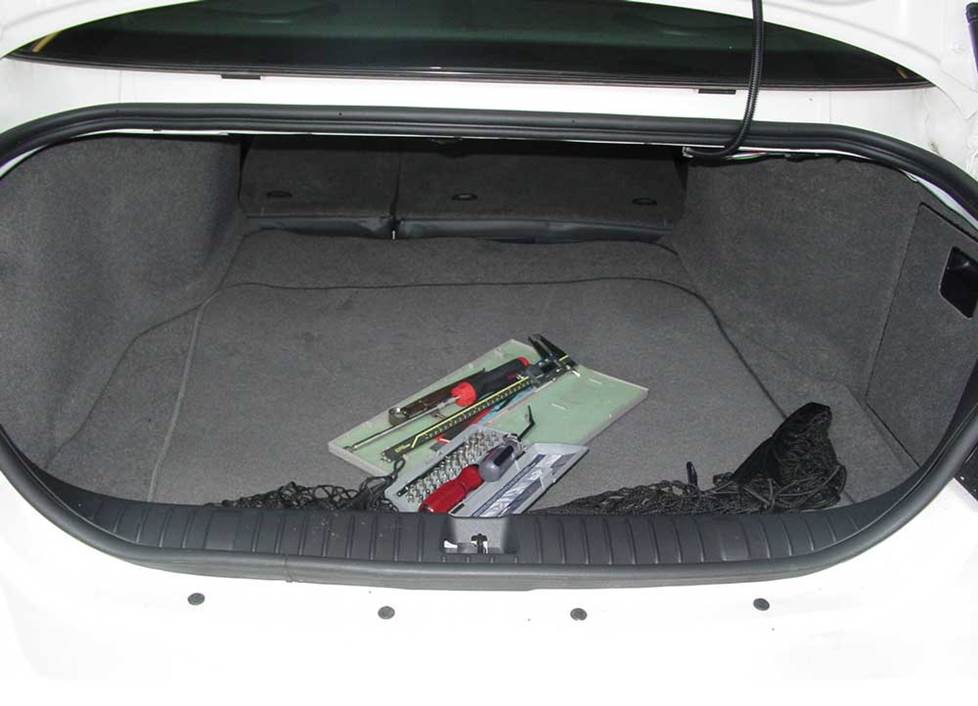 There's a fair amount of room for a subwoofer box back here (Crutchfield Research Photo)
Bass in your Grand Prix
The Grand Prix has a great big trunk, so if you want to add a great big sub, you're in luck. The available space is 36" W x 17" H x 34"/47" D. That will hold some pretty massive subwoofer boxes, so let your imagination run wild.
For more practical sorts, we offer a range of powered subwoofers that will fit neatly into the trunk and leave you room for groceries and luggage and whatnot.
Learn more about building a bass system in our Car Subwoofer Buying Guide.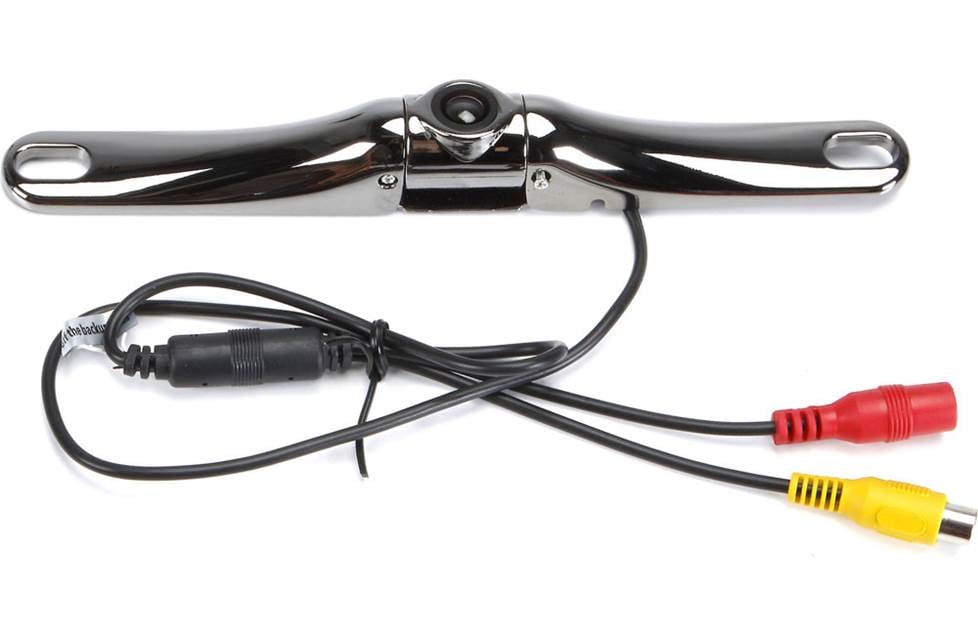 A rear-view camera can help take the stress out of parking lot maneuvers
Other options for your Grand Prix
There are plenty of other ways to improve your Grand Prix. Here are some of the ways Crutchfield can help.
Add an amplifier for better sound
When you replace the Grand Prix's factory radio, you'll continue to use the factory amplifier in your audio system, and that's fine. But to further improve the sound quality, consider installing a 4-channel amplifier for your speakers. That will let you bypass the factory amp and get the best sound from your music. And if you install a new subwoofer, you'll also need to install an amplifier to power it, as well. Learn more about adding amps to your system in our Car Amplifier Buying Guide.
Sound deadening
The Grand Prix's slippery shape covers a rather noisy selection of engines and a somewhat plasticky GM interior. To quiet engine roar and the occasional rattle, you'll want to install some sound deadening material in your car. Foam baffles behind the door woofers and under the rear deck speakers will help you get the most out of your speakers. The next step up, especially if you've installed a high-powered system with a big sub in the trunk, is to install Dynamat in the front doors and trunk lid.
Rear-view camera
The Grand Prix isn't a large car in the traditional sense, but it's not always fun to wrestle with in a crowded parking lot. If you're looking for a way to improve your vision and safety, we offer rear-view cameras from Kenwood, Alpine, Sony, Pioneer, and more. Some are designed to work with same-brand receivers only, but others come with a composite video connector and will work with almost any video receiver.
Security
Installing a security system in your Grand Prix isn't easy (security systems rarely are), but it's less complicated than it could be. Our Crutchfield Advisors can help figure out what you need to get the job done, but we usually recommend taking your car and new gear to a professional installer.
Let's get started!
Ready to shop? Use our vehicle selector to find the gear that will fit your car or truck. If you have questions, give us a shout via phone, chat, or email