In this article: I'll review the three new products Sonos released this summer...
Sonos Five — an update to the popular Play:5 wireless speaker
Sonos Arc — the first Atmos-capable Sonos sound bar
... plus I'll give my impressions on the Sonos wireless surround sound system I set up.
When I was a kid, few possessions were dearer to me than my boombox. It traveled with me all over the house, so that I could have music at my fingertips wherever I went. Wireless multi-room audio systems like Sonos have made it a lot easier to fill our homes with music. (Though I'll be honest — I still have the old boombox!)
Sonos lets you stream content over your Wi-Fi network, so you can have a dance party in the kitchen, spin vinyl in the den, or listen to podcasts while you work in the garden. You can play a different song on every speaker or sync the same tune all over the house. And with the recent release of Arc, you can even get the enveloping sound of Dolby Atmos in your living room.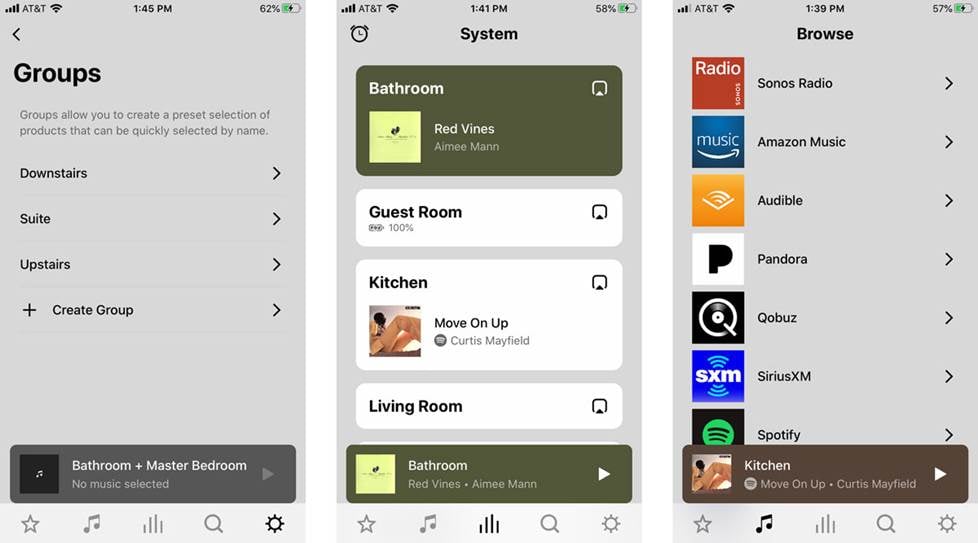 In addition to a lighter, more colorful look, the new S2 Sonos app also adds the ability to create groups of speakers you frequently use together.
The new S2 app
Before I go too deep, existing Sonos users should be aware that this new gear requires you to run Sonos via the new app — often referred to as S2. But there are a few products — the very oldest in the Sonos lineup — that just don't have the processing power to handle the new software features and increased audio bandwidth.
That means, if you're a longtime Sonos fan like I am, you might have a decision to make. I still have a Gen 1 Play:5 and a Connect that I use every day. They are both on the very short list of gear that's incompatible with S2. If you're in the same boat, you have a couple options. Check out this Sonos article for more information.
For what it's worth, my update to S2 and subsequent creation of a separate S1 system for my two legacy products only took me about 15 minutes.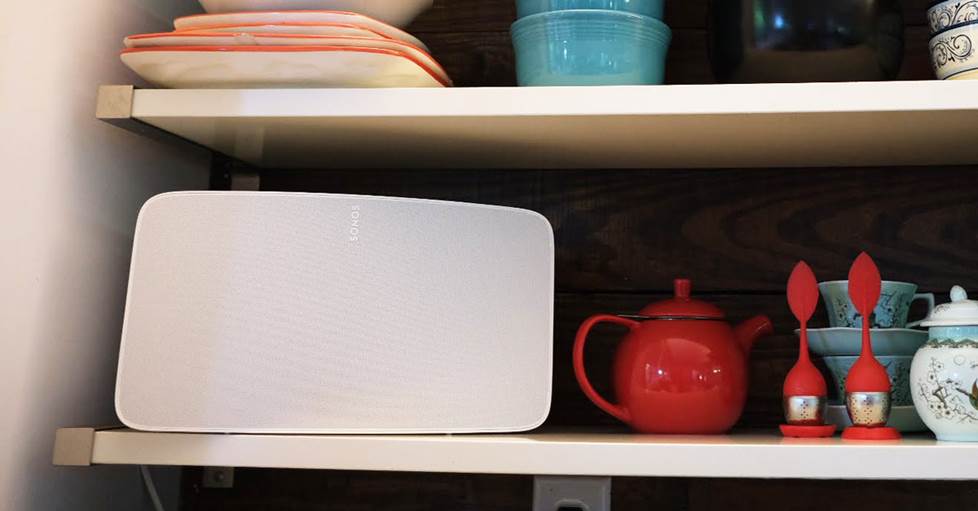 The Sonos Five creates an impressively spacious soundstage for a single-box speaker.
Sonos Five
When I first got the Five, I set it up right at my desk so I could test it out as I worked. My home office is compact, but not tiny, and the Five filled it with sound. Honestly it was a little too much, so I moved it into my kitchen which opens out into the dining room and living room.
I had been very happy with Gen 1 Play:5 I had there before, but when set up the Five in the same spot, I could hear an immediate improvement. The Five is a much heftier and more powerful speaker than the Gen 1 Play:5, so it's even better for cutting through my open floorplan. At only half-volume I could hear it pretty much everywhere on my first floor.
One of my test albums was Homogenic by Bjork, which on a poor speaker can sound like a lot of electronic noise. From the opening track — "Hunter" — I could tell that the Five was capable of teacup-rattling bass. But I could also hear the song's sweeping strings and even the hints of accordion that I don't really notice when I play the album on my car stereo.
I've never really messed with the EQ settings of my Sonos speakers, because they tend to sound pretty balanced. But it was helpful to be able to take the bass down a notch on some really thumping tracks (rather than having to adjust all the glassware on the shelf!). It's fair to say the Five gets a lot lower than the Sonos speakers I'm used to.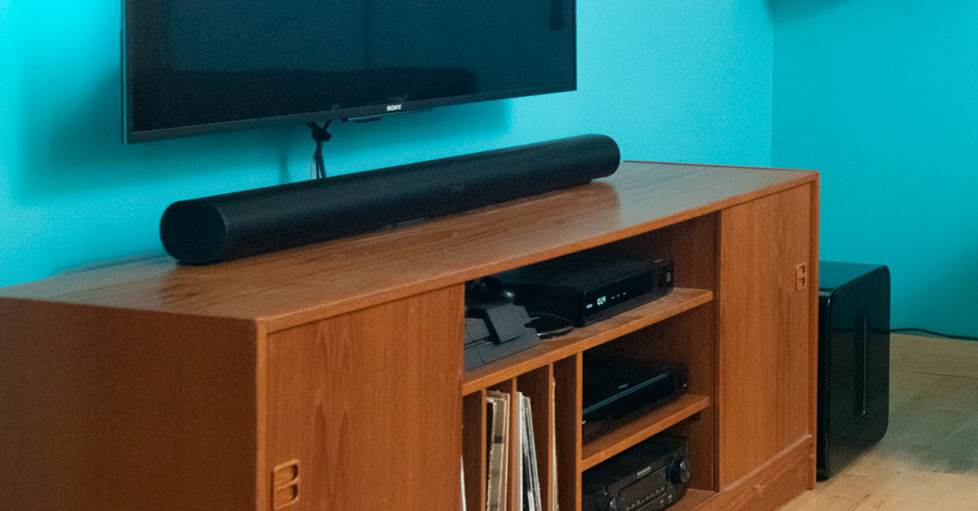 I appreciated how sleek Arc looked in my living room compared to the three boxy speakers I normally use.
Sonos Arc
Sonos already makes our most popular and well-reviewed sound bars, but Arc is huge news because it's the first Sonos bar capable of delivering the heightened soundstage of Dolby Atmos. In addition to eleven built-in speakers — including pairs of side-firing and up-firing drivers — it has advanced signal processing to create a multi-dimensional soundstage full of depth and detail.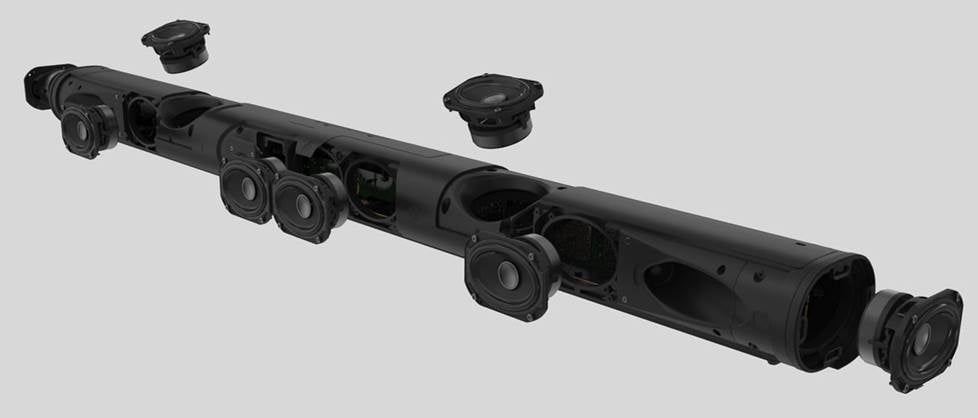 Arc's eleven precisely angled drivers create a wide and engaging soundstage.
If you have a newer TV, it should be easy to take advantage of Arc's Atmos capabilities with a simple one-cable HDMI connection between your eARC-equipped TV and the single port on Arc. Connected this way, the Atmos signal can be passed via lossless Dolby TrueHD — the format used on Blu-ray discs.
And if your TV doesn't have eARC? You might still be able to get Atmos. Some TVs can pass an Atmos signal over a regular ARC connection via Dolby Digital Plus. This lower-bandwidth surround sound format is used by streaming services like Netflix and Amazon.
The Netflix app currently requires that your TV or streaming device be able to natively decode Atmos (instead of just passing it through to an Atmos-capable sound bar).
But don't rule out this bar if your TV can't pass Atmos at all — mine can't, and I still loved Arc. You see, when Arc isn't getting an Atmos signal, the upward-firing drivers adjust to deliver more low-end frequencies. I spent a solid week putting it through its paces, and I was really impressed.
Arc has Amazon Alexa and Google Assistant built in, so it's easy to start a living room dance party whenever the mood strikes.
Arc delivers
I will admit that at first I was pretty annoyed that I couldn't find some sort of workaround to get an Atmos signal to Arc. I really wanted to see how well Arc performed with Atmos content.
I finally accepted the reality and put on a Blu-ray of the latest Ghostbusters. When the ghost activity started kicking off in the Aldridge Mansion, my husband — familiar with my frustrations over our TV's lack of Atmos pass-through — actually said "so wait, this isn't Atmos?" It sounded like a much more complicated home theater system.
The word "immersive" gets overused in this business, but it really is very accurate when it comes to Arc. I set up some surround speakers (more on that later), but I wanted to test most everything I watched with Arc alone. Well, when I was watching Batman, I honestly thought that I'd forgotten to turn off the surround speakers. I checked and rechecked several times during the shootout scene set in the Axis Chemical plant because it really sounded like the bullets were ricocheting around the room.
I'm sure that spacious soundstage is at least partly due to Sonos's Trueplay tuning feature. My living room has a high ceiling and it opens up into the kitchen on one side. Trueplay used the mic on my iPhone to measure the way sounds were reflected around my space, and then it fine-tuned Arc's output accordingly. This feature is currently only available on iOS devices (there's too much variation amongst Android devices).
Sonos also included a really helpful speech enhancement option. It's selectable in the Sonos app only when Arc is getting audio from your TV (so you won't see it there when you are streaming music or other content from the Sonos app). This feature makes dialogue easier to hear and understand.
Hear more about it
Listen as I compare notes on the Sonos Arc with our sales training manager JR in this bonus episode of the Crutchfield podcast.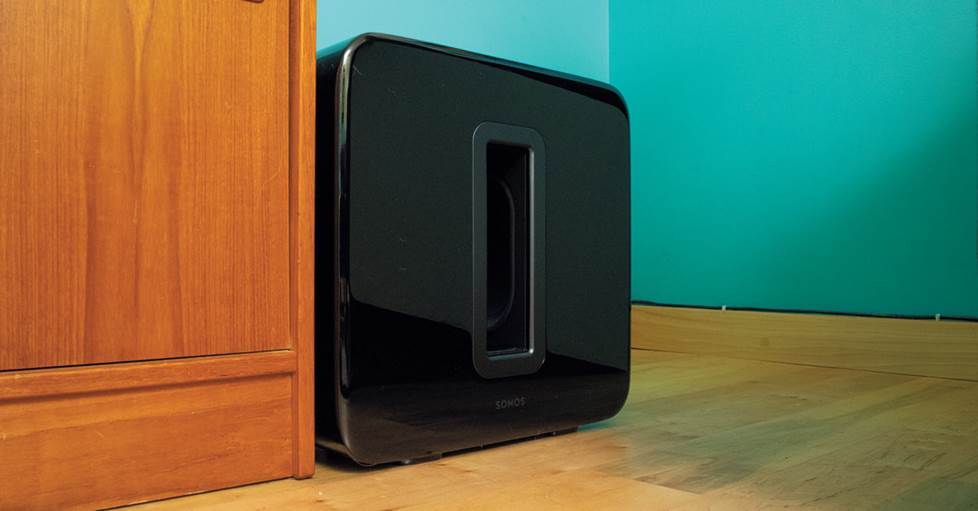 The Sonos Sub is shiny, and it delivers very impressive bass.
Sonos Sub (Gen 3)
Arc sounds really great by itself — better than most bars I've tested. But I also appreciate that it's very easy to add the Sonos Sub into the system if you decide you need a bit more.
When you do this, the Sub takes on the lowest frequencies — leaving Arc's amplifiers free to drive more high and midrange frequencies. This makes all your content sound fuller, but I especially appreciated it with music. I listened to an old favorite — R.E.M.'s Automatic for the People. The album isn't known for thumping bass, but with the Sub on, I could hear more detail. The instruments sounded more distinct, and on tracks with string arrangements — like "Everybody Hurts" — I got chills.
The Sub can also bring a sometimes subtle depth to TV shows. For example, David Attenborough's voiceovers in Netflix's Our Planet are a bit richer, while sounds like the rumble of thunder are a little deeper and more realistic.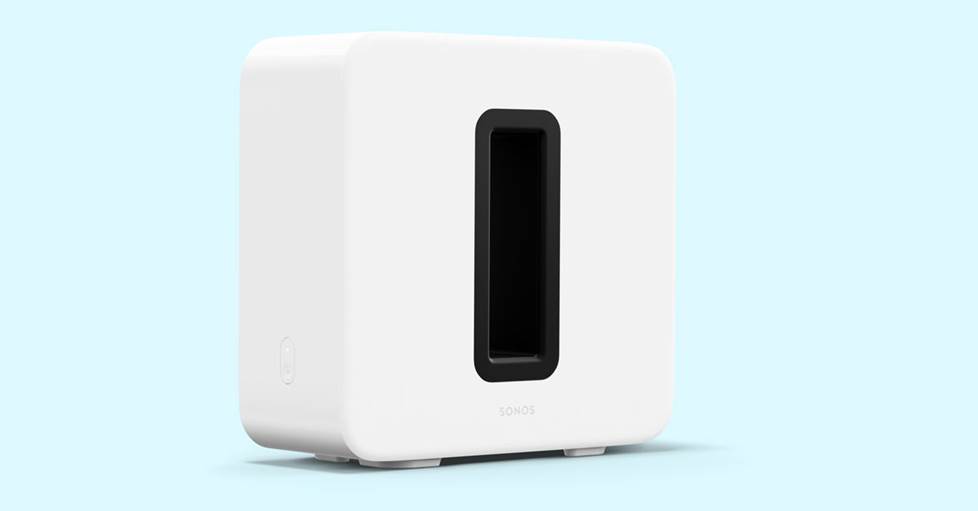 The new Sub also comes in white.
Don't get me wrong, the Sub does a lot for explosions, too. And the laser that the Russians are using at the start of season 3 of Stranger Things — wowza, that was way more impactful and intense with the sub turned on (almost upsettingly so, for me).
While Arc is a fresh delight from Sonos, this third-generation Sub is a new and improved version of an already popular add-on. It still has the unique and glossy good looks of its predecessors, but it also has increased memory and processing power for improved performance.
This is a very solid (heavy!) sub, but it's also a lot easier to find a spot for in the living room than my big, boxy 12" Klipsch sub. The Sonos Sub is narrow, wireless, and can even be placed horizontally under a couch if you need. But keep the included microfiber cloth handy if you have pets, because it will collect fur!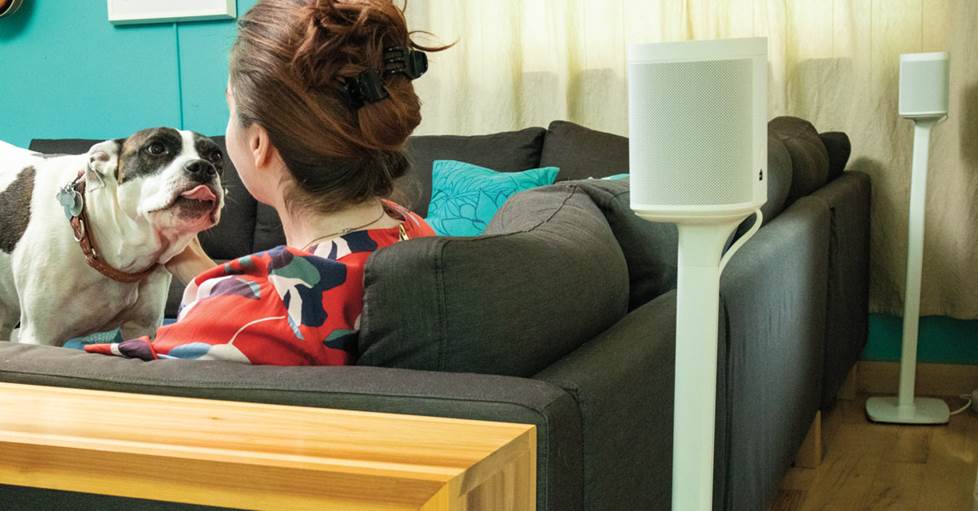 Using a pair of Sonos One SLs as surround speakers added greatly to the psychedelic intensity of the movie Midsommar.
Discrete and discreet surround sound
I'll be honest, I've been pretty happy with my 3.1 setup for home theater, so the added clutter of rear speakers and their associated wire didn't hold much appeal. Pairing two wireless One SL speakers with this bar made me rethink my opinion.
For one thing, they are very unobtrusive. And I love that you don't have to run any wires across your room — just plug them in for power. But as compact as they are, they still brought that enveloping movie-theater feel I've been missing being stuck at home so much this summer.
Arc's angled drivers and processing create a pretty expansive soundstage on their own, but it's hard to beat the real thing. I was watching the jungle episode of Our Planet, and the surround speakers made it sound like ants would be swarming over my couch any second.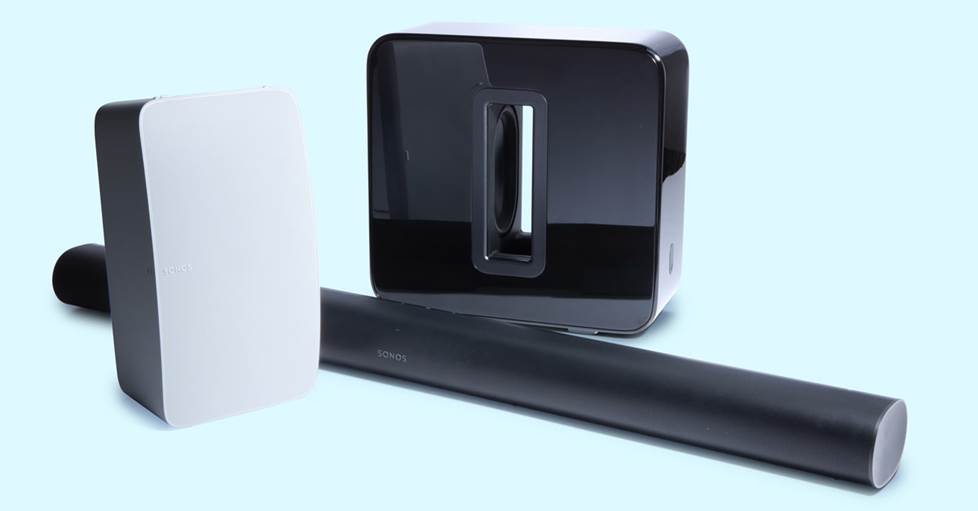 2020 was a big year for new and updated Sonos gear.
Final thoughts
I think the Five is a perfect choice if you are looking for a powerful wireless speaker for a big room. It's also a no-brainer if you have an ancient Gen 1 Play:5 like mine, and you want to upgrade it so that all your speakers can be on the new S2 app.
And I wouldn't hesitate to recommend Arc to anyone looking for a simple, elegant way to get Atmos at home. It's also perfect if you want a sound bar that sounds great with music, especially if you already have Sonos, or you're considering starting a wireless multi-room system.
The Sub is a great add-on if you have plenty of room in your budget. If you are at all on the fence, I would strongly suggest trying Arc by itself first. I think most people will be very satisified the the amount of bass it puts out. If you decide you need more oomph, the Sub is very easy to incorporate into your system later (but don't forget to retune!).
If you have questions about Sonos, the new S2 app, or whether your existing or prospective TV will be able to pass an Atmos signal to Arc, drop me a comment or get in touch with one of our knowledgeable advisors.