ou could look at the JBL Tour Pro 2 earbuds in one of two ways: earbuds with a cool touchscreen case that happen to be terrific, or top-notch earbuds that happen to have a handy touchscreen case. Either way, the complete package is an all-around great choice for travel, work, workouts, and more.
I've used these sweatproof earbuds as my day-to-day headphones for about a month and they check all the right boxes — long battery life, above-average noise cancellation, and well-tuned, linear sound with quick, powerful bass punch.
And then there's the eye-catching, headline-grabbing touchscreen case. I found it more useful and convenient than I expected — the case let me play, pause, and skip tracks, adjust volume, choose from different sound settings, select the level of noise cancellation or ambient sound, and more. I could swipe through a plethora of features and settings with my phone out of reach, plus keep tabs on the battery life at a glance.
So, do you really need a touchscreen on the case?
When I first laid eyes on the JBL Tour Pro 2's smart case, I admired its sleek, ultramodern look. But to be totally honest, I wasn't sure a touchscreen was entirely necessary. I mean, there is no shortage of screens in our lives already — and there are several ways to control these earbuds.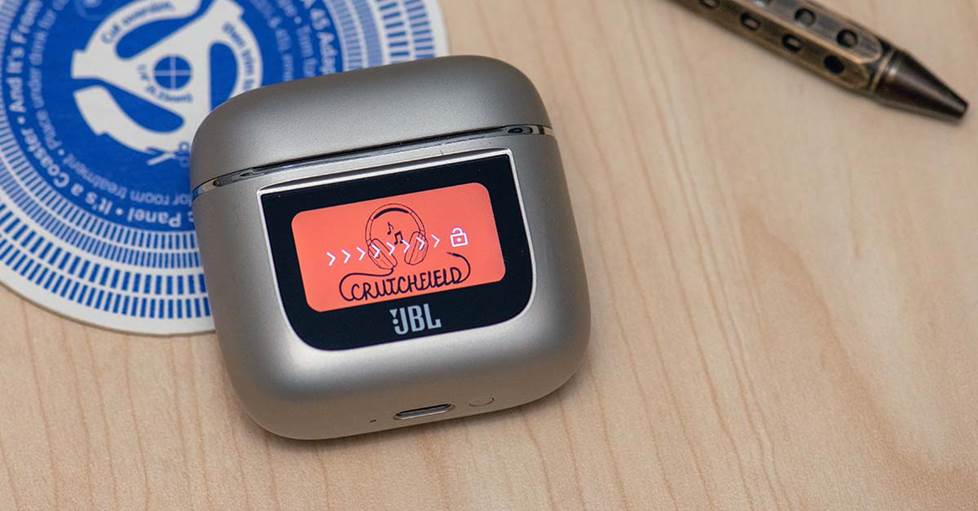 JBL's smart case gave me touchscreen control over music, calls, noise cancellation, ambient modes, and sound presets out of the box — all before I downloaded the app to unlock more features.
I became officially sold at an Outer Banks beach house when I was on vacation. One morning, I got up before all the kids, popped in the earbuds to listen to a podcast and made my coffee. Then I headed out to the deck to watch the sunrise over the ocean.
I stepped out in the crisp early-morning breeze and took my first sip from the steaming mug. I wanted to quickly turn off the noise cancellation and use JBL's "Smart Ambient" feature to hear the crashing waves — and embrace the multisensory experience. That's when I realized I had left my phone plugged in, recharging on the kitchen counter.
Of all the control options I had, it was easiest to just pull the touchscreen case out of my pocket. I quickly swiped my thumb over to the noise cancellation controls and toggled "Ambient Sound" on. This opened up the outside world — the earbuds immediately let the ocean sounds in, the sun started to creep up over the dunes, and I could soak in the whole scene.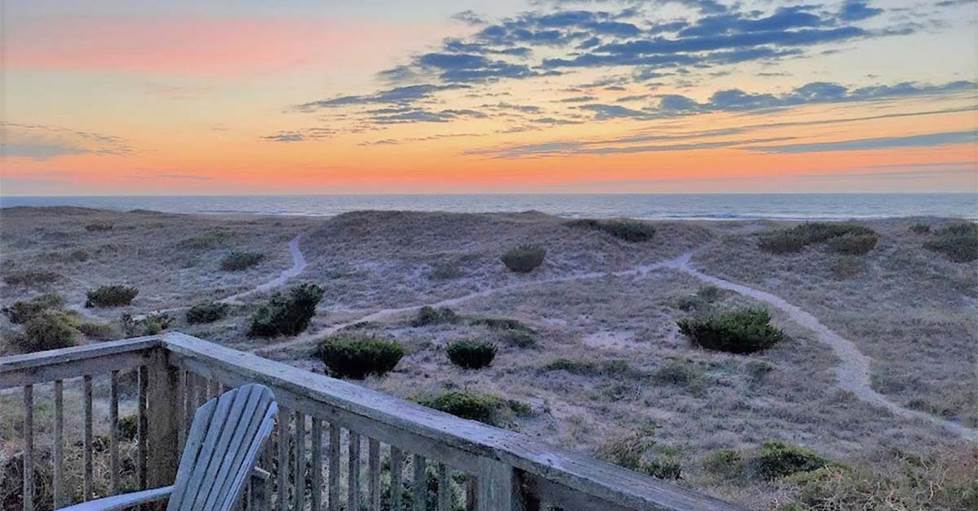 On vacation, I used the smart case to quickly allow in ambient sounds without removing the earbuds. The crash of waves — and the entire scene — washed over me while my podcast kept playing.
Strong, reliable wireless connection
The initial pairing with my Android phone was straightforward. Once I was synced up, the earbuds would automatically connect as soon as I snapped open the case. You can use both earbuds together or one at a time in mono mode. And "multipoint connection" allows you to pair to two devices simultaneously — so you can move back and forth from your laptop and phone.
The earbuds connect to your devices via Bluetooth 5.3 — a newer, more reliable version of the popular wireless technology. At work, I could leave my phone on my desk and roam around our open-space office and down the long hallway without dropouts.
Adaptable and effective noise-canceling circuitry
JBL uses a series of built-in mics and advanced algorithms to "read the room" then adjust the amount of noise cancellation in real time. Using my usual lawn mower test, I found the noise-canceling circuitry highly effective. I'd put it a notch below the top-tier level of the Bose QC Earbuds II and Sony WF-1000XM4s, but I was still able to mow the grass and listen to podcast conversations at low volume levels.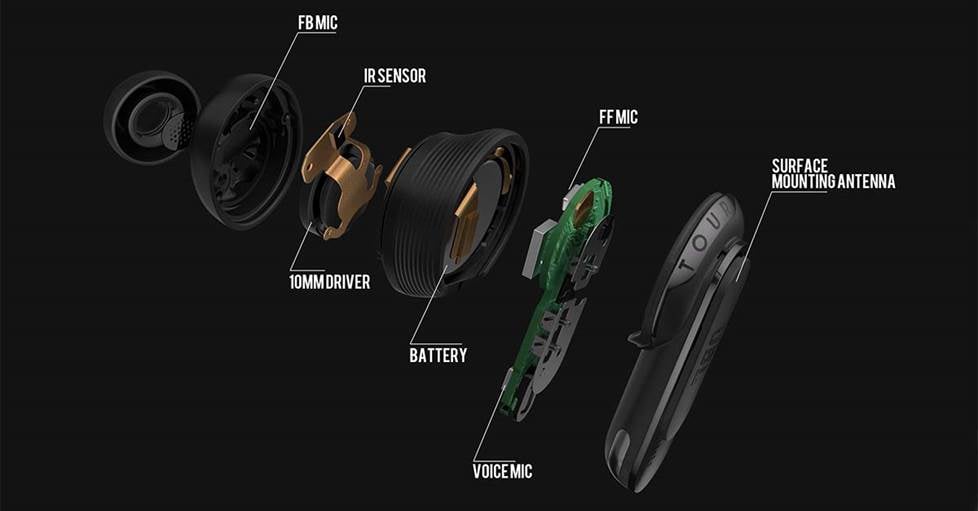 JBL's built-in mics and processors adjust noise cancellation in real time and help ensure phone calls are clear, while large 10mm drivers deliver linear full-range sound.
Finding the right ear tips for fit and performance
I want to note that the noise cancellation improved when I moved up a size in ear tips. There are three sizes of silicone tips included and I started with medium. Those the fit most naturally, but I got a better seal when I switched them out for the large.
Even though it took me a while to get adjusted to the larger tips, I eventually found them just as comfortable. The tighter seal helped keep the earbuds in place better and also made the noise cancellation more effective. Finding the right fit is crucial for sonic performance too — it helps lock in imaging and ensures you get the strongest bass impact.
Clear phone calls while on the move
Phone calls through the Tour Pro 2 earbuds sounded clear for me and my recipient. The built-in mic system is designed to pick up voices while minimizing wind and background noise. I never ran into any issues, even testing on relatively busy sidewalks with traffic nearby.
I switched back and forth from using both earbuds to one at a time, and was pleased at how seamlessly the controls and sound adjusted. A lot of earbuds offer single-ear operation but sometimes it requires a "reset" — you either have to re-pair or put both back in the case. I rarely had any issues with the JBL Tour Pro 2s. They seemed to "sense" what I was intending to do.
More on-the-go controls and mobile app
Along with the touchscreen case, there are a few other ways to control these earbuds. You have touch control on the earbuds themselves and the free, downloadable JBL Headphone app. It's available for Apple® and Android™.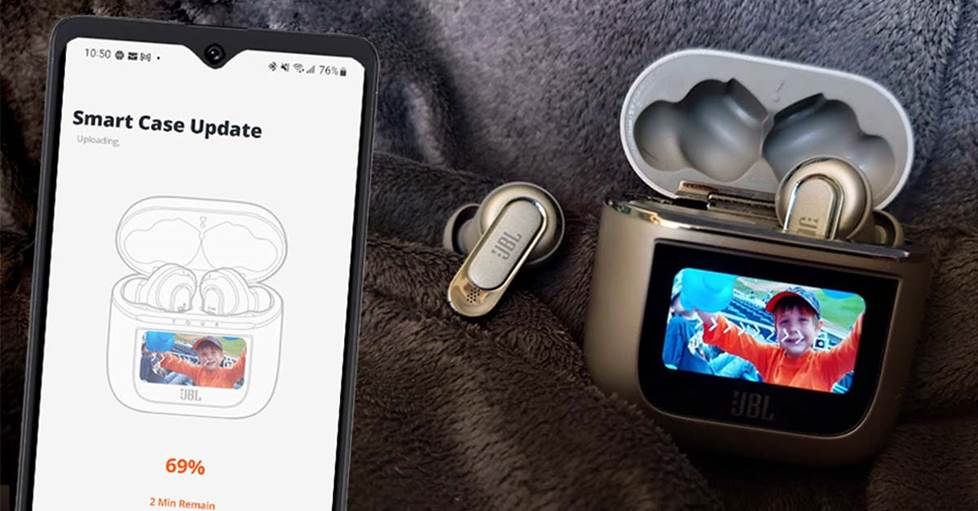 The JBL Headphones app also lets you further customize the touchscreen case — including adding your own screensaver image.
The app gives you more fine control over noise cancellation, ambient modes, and sound settings. It also opens up more features, including JBL's Personi-fi 2.0. This personal sound calibration checks your fit and assesses your hearing profile, then tailors the sound accordingly.
Long battery life
You get about eight hours of listening and noise cancellation on a single charge, which is pretty strong battery life for true wireless earbuds. The case banks up to 30 hours of power to recharge the earbuds on the move. And to me, the ability to see the percentage of battery life left for each earbud and the case right on its screen was — yet another — game changer.
Listening impressions: well-tuned sound with detail and thump
JBL has developed a distinct sound signature, honed over the years by exhaustive user testing. This special balance of frequencies known as the Harman Target curve has been scientifically proven to satisfy most listeners — and informs the sound of these headphones. Out of the box, the Tour Pro 2 offers an overall linear sound, with a touch of extra muscle in the bass.
These earbuds delivered enough thump to keep the head nodding through the hazy hip-hop accompaniment of El Michels Affair & Black Thought's "Miracle." Still, the emcee's flow blends seamlessly with the funk-fused boom-bap of the backing band. The bass had strong presence but wasn't overbearing. And I never got that dreaded "rapping over a backtrack" effect that you hear when certain frequencies are overemphasized.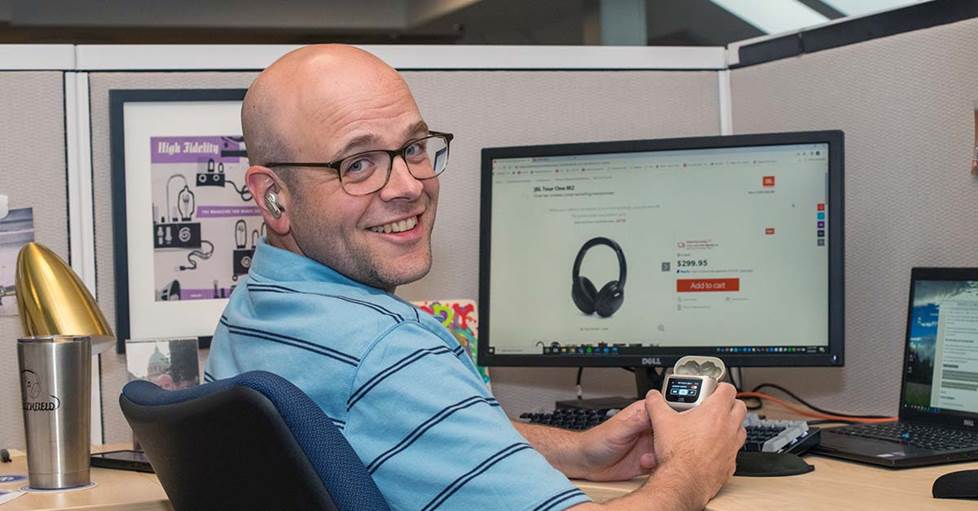 The above-average noise-canceling circuitry knocked out office distractions, so I could enjoy the striking spatial audio presentation.
Soaring sound for spatial audio, too
The JBL sound signature also worked well for Apple Music spatial audio tracks mixed for Dolby Atmos. On the epic Atmos mix of Henry Brandt's Ice Field, the sonic scope and directionality were uncanny.
Through low-profile earbuds, I was able to grasp the full magnitude of this sprawling symphony hall with orchestra members strategically placed around the building. JBL's accurate, linear tuning is crucial for delivering the proper sound localization cues for our ears and brains.
You pick up all those subtleties that give you a sense of the space, and "where" instruments and vocals are located. And the music doesn't have to be on a scale that grand. I was taken by the intimate Atmos mix of the debut boygenius record, particularly the Phoebe Bridgers-led track, "Emily I'm Sorry." Haunting harmonies occupy the bulk of the soundstage, while minimalist instrumentation fills in the gaps.
With these earbuds, the gentle, yearning, yet biting lead vocals dagger toward me from the center. When Lucy Dacus and Julien Baker join in, it's as if they're standing on either side of my head, turned 90 degrees. A chamber music effect on their voices helps stretch out the overall presentation, but still preserves the claustrophobic urgency and immediacy of the song.
Product highlights:
100% wire-free headphones with LED touchscreen charging case
IPX5 sweat- and weather-resistant
Bluetooth® 5.3 for wireless music listening and phone calls
"True Adaptive" noise-canceling circuitry and "Smart Ambient" mode
high-performance 10mm dynamic drivers for clear, accurate sound with strong detail and bass
tuned to JBL/Harman's targeted headphone EQ curve, honed by user research
three sizes of soft silicone ear tips
built-in rechargeable batteries offer up to 8 hours of listening with noise cancellation (10 without)
carrying case banks up to 30 hours of power to recharge earbuds
full-color LED screen on case offers control over settings and headphone functions
free, optional JBL Headphones app available for Apple and Android
touch controls for music, calls, noise cancellation, and volume
warranty: 1 year
Need more help? Contact us!
Have questions about how the JBL Tour Pro 2 earbuds compare to others? Contact us today.
Our expert Advisors know headphones inside and out. Your Advisor can send specific Crutchfield pages to your screen, saving you a lot of browsing time. You'll get a shopping cart loaded up with everything you need.
Free lifetime tech support is included with your Crutchfield purchase.