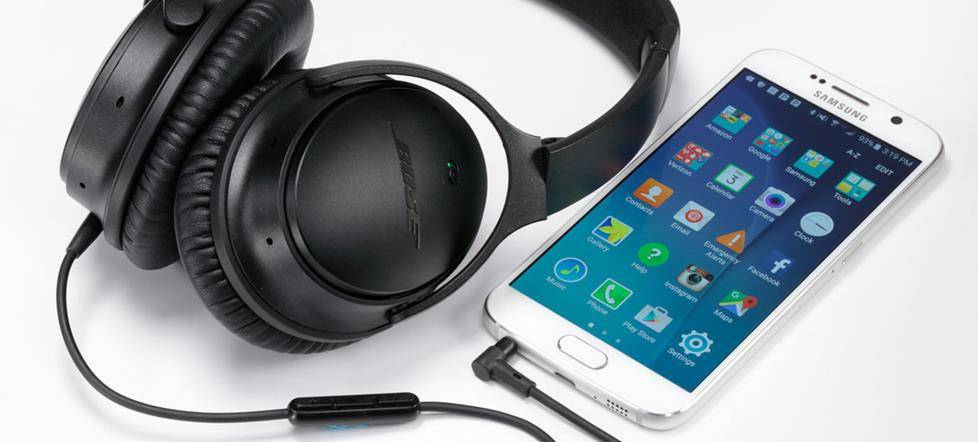 We offer several headphones with built-in controls for Samsung Galaxy (including the new S7), HTC, LG, Sony, and other Android phones.
I've had a Samsung Galaxy phone for a while, so I know the drill: apps and accessories are often available for iPhone long before there's an Android version. But if you're looking for headphones for your Android phone, you've got plenty of options.
Any pair of headphones with a miniplug connection will work with any phone's headphone jack. And if you want to have easier control of music and calls, we can help you find the right headphones.
Have an iPhone®? Check out our article How to choose headphones for your iPhone.
Control your music
Do you keep your phone in your pocket while you listen to tunes? Headphones with an in-line Android remote let you adjust the volume and change songs without having to rummage for your smartphone.

Here's how you can use a three-button Android remote* while listening:
You can adjust the volume on any app that uses audio, like Pandora, Google Play, or YouTube.
Play or pause music by clicking the middle button once.
Double click the middle button to play the next song in your playlist or app. (Keep holding it to fast-forward through your current song.)
Triple click the middle button to play the previous track.
*Some Android headphones have one-button remotes without volume controls. Because there are so many different models of Android phones, controls can vary.
Take calls or video chat using your headphones
Most headphones with a remote also include a built-in mic for taking phone calls. You can keep your headphones on while you talk. If a call comes through, answer it with one click of the remote. You gain a little privacy on Google Hangouts and Skype too — everyone in the room doesn't have to hear the other side of the conversation.

Click middle button once to answer incoming calls
Click and hold middle button to reject incoming call (You'll hear two beeps when call has been dismissed to voicemail)
If a second call comes through, you can click the middle button to switch over and answer.
Talk to Google Now or S Voice
Google Now and S Voice let you send text messages, make appointments, and search for information through voice control. Click and hold the center button on your in-line remote and you'll hear your voice assistant of choice. You can ask questions and give commands to through the built-in mic.
Shop for headphones with Android control
Wireless Bluetooth® headphones with Android controls
Some Bluetooth headphones have Android controls built into the earcup. You have the same controls offered by the in-line remote, along with the freedom of wireless listening. What's more, the mic is built into the earcups. So you can even answer calls when your phone is out of reach.
Check out our Wireless Bluetooth headphones guide for more information.
Bluetooth headphones for Android
Need noise cancellation?
Noise-canceling headphones are great for travel, work, and other loud places. They help eliminate outside distractions that compete with your music, videos, and podcasts. Many of them also offer Android controls.
To see how active noise cancellation works, read our Noise-canceling headphones guide.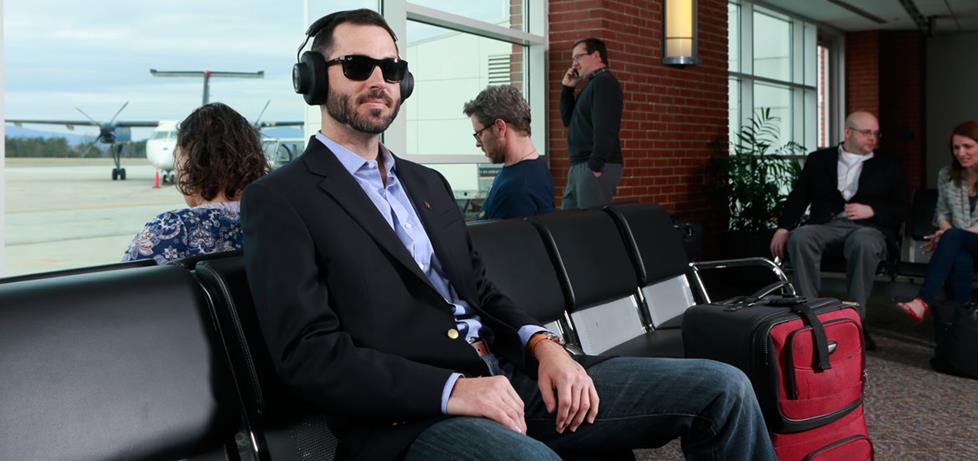 Noise-canceling headphones for Android
Sports and running headphones
It's pretty handy to play up-tempo tunes on my Samsung Galaxy when I'm on the treadmill. But if a slow song sneaks into my playlist, I don't want to press pause on my workout and mess with my phone. Many sports headphones have built-in Android controls. You can keep moving as you toggle through your motivational music, adjust the volume, or answer calls.
Our headphones for running article can help you choose.
Sports headphones for Android
Work out with wireless freedom
To lose the cord between you and your Android phone, choose a pair of wireless Bluetooth sports headphones. You can hit the weights or treadmill while your phone rests close by. Many of these Bluetooth sports headphones have Android controls built into the cable that connects the left and right earbuds.

Bluetooth sports headphones for Android
Need help with your decision?
User reviews are a good place to start for guidance. Or you can contact one of our Advisors.