You buy a car, you drive it for a couple of months, and you decide that the sound system just isn't cutting it. In the old days, you'd buy a new stereo and some speakers and life would be good. But it's not that simple anymore. Many car makers use unusual dash configurations, and others use "premium" systems that use amps and speakers with unusual impedance ratings and proprietary connections.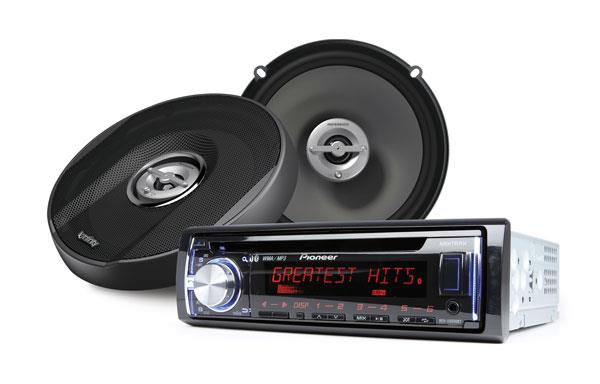 Many new vehicles won't accept this traditional car stereo and speakers combo.
The biggest dealbreaker? Instead of the old in-dash CD player/radio combo, many new vehicles feature all-in-one consoles that incorporate climate controls, OnStar®, GPS, vehicle warning systems, and other unique features, housed right along with your sound system. Replace your stereo and you lose many, if not all, of these important factory functions.
Options for the 21st century
What are your choices if you've purchased a vehicle like this? Are you stuck with the limitations of the factory sound system? Is the local dealership your only option for adding to your system? Will you have to suffer with second-rate sound quality and limited entertainment choices for the next 100,000 miles? Cheer up. There's more and more good news headed your way.
Car stereo manufacturers have begun to adjust, moving away from the traditional stereo and speaker offerings toward developing products that enhance factory systems. Solutions range from adding a simple powered subwoofer, to using a sophisticated sound processor to expand your system, and from adapters that connect your iPhone® or iPod® to your factory stereo, to kits that integrate your smartphone into your factory system. Let's talk about some of your options.
Dysfunctional dashboards and other problems
Lots of cars — the 2006-up Honda Civic or 2003-up Mazda 6, for example — include heating and air conditioning controls in the console along with the factory radio, making it difficult to install a new receiver. Owners of these cars can rejoice, because dash adapters are available that allow you to install an aftermarket stereo while retaining your heating and cooling controls.
Many other vehicles (General Motors SUVs in particular) incorporate audible safety warnings, door chimes, OnStar voice prompts, and other features into the factory radio. Replace the factory radio and you lose major functions. But you can now find a variety of adapters that allow you to install a new stereo and still maintain these factory systems.
Getting the Sound Right
Most complaints about factory sound systems cite poor sound quality, and even expensive "premium systems" can suffer from muddy bass and poor imaging caused by inexpensive drivers and too little power. To compound the problem, most factory stereos don't offer the equalization controls you need to get the sound right. Here are a few easy fixes that can improve your daily commute.
Adding amps and subs to your factory system
If you're keeping the factory radio but installing new amps, speakers, and subs, Crutchfield offers a wide variety of sound processors for this type of installation. Many models can tap into virtually any factory system, which will give you extensive equalization capabilities and allow you to add amplifiers and subwoofers.
In addition, many factory systems use a preset EQ curve that makes the factory speakers sound good, but creates a horrible sonic mess when you try to add an amplifier and/or new speakers. The PXA-H800 flattens out this factory curve, so you can install an amplified system and enjoy superb sound quality.
Bass, where art thou?
The Achilles heel of many factory systems is bass. A powered subwoofer can improve the sound in your car dramatically, even if your vehicle has a "premium" system. Why? When you turn up the bass on your car stereo, you lower the effective power of its amplifier because it takes more juice to produce bass. With a powered sub, you can leave the bass set to "0" on your factory stereo, and let the sub bear the brunt of producing the low-frequency response you want to hear. You'll get a much cleaner overall sound.
Any powered sub worth its salt will offer "speaker-level" inputs, so you can connect to the factory system by tapping into the speaker wires. Powered subs range in size from small enclosures designed to fit under a seat, to larger units that install in your trunk or rear cargo area. For many vehicles, you can use a "custom-fit" sub, a molded plastic enclosure complete with speaker, that installs in the rear side panel or under a seat. Powered versions include an amplifier for an all-in-one bass package that doesn't take up any space.
Improving clarity with tweeters
Check out the way you've set the tone controls on your factory stereo. If you see that the treble control is all the way up, consider buying a set of tweeters, small high-frequency speakers that you can install in your doors or dash. You can wire them together with your door or dash speakers, and you'll be amazed at how they'll bring your system to life. Even if you already have factory tweeters, installing a set of high-quality tweeters in their place can improve the clarity of your system dramatically.
Born for bad sound
Some cars are doomed to poor sound by virtue of their design. The Jeep Wrangler, for example, can ford mighty rivers and climb tall mountains, but its combination of small speakers and a noisy environment makes for a less than ideal listening experience. Now, you can buy heavy-duty plastic speaker pods that install in various spots in the Wrangler interior, housing a set of your favorite speakers or a small sub.
Sub-compact vehicles or small sports cars are also notorious for bad stereo setups, with tiny speakers stuck in the doors or dash as an afterthought. Replacing your stereo only goes so far when the music's broadcast through a set of 4" speakers. The solution? A compact powered sub, like the Sound Ordnance™ B-8PTD can fit in your trunk or under a seat without too much trouble, adding serious impact and punch to your system.
More entertainment options for your factory radio
In the past, car manufacturers have avoided giving you any way to plug an auxiliary device into the factory stereo, figuring correctly that they'd make more money by selling you the factory option at the dealership. But the overwhelming popularity of the iPod® forced this issue, and most carmakers now equip their new vehicles with USB ports. But what are your options if you're not one of the lucky ones with a car like this?
Take your tunes on the road
Fortunately, a healthy little industry has developed whose sole object is to help you connect your smartphone or music player to your factory stereo. Want to hook up your iPod? You'll find iPod adapters that'll connect you to factory radios from nearly every major car manufacturer. These adapters allow you to:
play your iPod through your factory sound system;
choose between using your factory radio's controls or the iPod's controls to run your iPod;
access all your iPod playlists;
charge your iPod's battery while you drive.
If you listen via a non-Apple music player or smartphone, you can find an auxiliary input adapter for most factory stereos. Pull your factory stereo out of the dash, plug one of these adapters into its rear CD changer plug, reinstall the stereo, and you're done. You can plug in and listen to your portable music player — or any other outboard audio source — through your factory stereo. Sweet.
Keep your phone at hand and secure
But what happens when you plug in your music player and start driving? You can't just hide it away, because you might want to get to the controls. So where do you put the thing? Solution: get a phone mount. They install easily — just remove a section of your dash, screw the mount in place, and replace the dash. Many just attach to the dash via an adhesive pad. You've created a permanent home in your car for an iPod or smartphone without any cutting or modification.
Cell phone safety
With each passing day, more and more locales are outlawing cell phone use on the road, trying to eliminate the hazard caused by distracted drivers holding a cell phone in one hand and driving with the other. But cell phones have become an integral part of modern life. How do you stay in touch and drive safely?
Bluetooth® wireless calling
You can take advantage of your phone's hands-free Bluetooth calling and install a hands-free kit. They plug into the factory stereo in many vehicles with the help of a handy vehicle-specific wiring harness.
This combo wirelessly connects your smartphone to your factory stereo, muting the stereo when you receive a phone call. You hear the conversation over your car speakers, and your side of the conversation is picked up by a small microphone that's included with the cell phone kit. Once you get in your car, the phone and kit sync up automatically, ready to accept or send calls. Your phone stays in your purse or coat pocket, and your eyes stay on the road.
More options on the way
In short, life with a factory radio can be good. As car audio manufacturers continue to adjust to the changing market, you'll find more and more products available that'll add functionality and performance to your factory system. Stuck with a factory stereo and haven't found what you want in this article? We have two words for you — contact us. We'll help you find your options for improved sound.